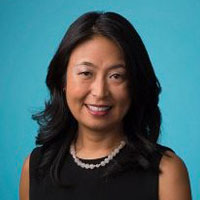 Amy Chang
Sr. Consultant, Strategic Planning, Coaching, Business Advisor
Amy Chang has been the CEO of an e-commerce company and the VP of Strategy & Investor Relations at a public-held company (NYSE) with a market cap growth from $220 million to over $1 billion during her 7-year tenure. Previously, Amy was a strategy consultant working with Fortune 500 clients. She began her career with KPMG as a CPA.
Amy is a strategic advisor, board member, and investor of various start-up companies. As a strategy consultant, she performs strategic planning; market analysis; operational assessments; identification of value-creation drivers and downstream impact of strategic decisions; and integration planning for corporations, private equity portfolio companies, and non-profit organizations.
As an executive coach, Amy facilitates leadership behavior change while working with clients on creating strategic business results.
Amy is a graduate of UC Berkeley where she earned her BS in Business Administration and MBA.
Amy is a Board Member of Hera Angels; Mentor in the Founder Institute, Startup Leadership, Hera-Labs and AdAstra Venture startup accelerators; and Member of Keiretsu Forum, Wharton Angel Network, and SheEO. She has been a member of the San Diego YMCA Overnight Camps Board of Advisors and is Chair-Elect of the San Diego YMCA Board of Governors. She has also been involved in homeless ministries, and she previously served as a foster parent and foster youth mentor.
Amy Chang's services include:
Executive Coaching
Leadership Assessments, Leadership Development and Training
Strategic Planning
Facilitation of Executive Retreats, Team Sessions, Problem-Solving, Focus Groups, etc.
Business Advising, Market Analysis, Operational Assessments
Identification of Value-Creation Drivers and Impact of Strategic Decisions
Integration Planning for Corporations, Private Equity Portfolio Companies, and Non-Profit Organizations